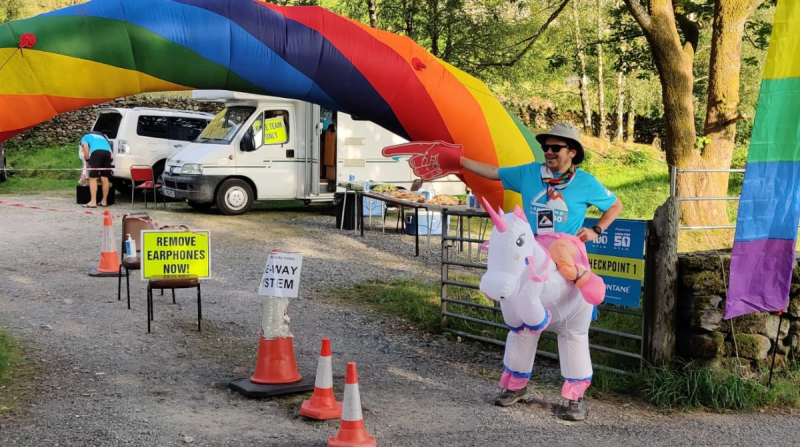 Making use of his paid volunteering days, Craig, our CRM Project Officer, marshalled at the Lakeland 50 and Lakeland 100 Ultra Marathon event.
Find out how the weekend went in Craig's own words.
Differences between the Lakeland 100 and the Lakeland 50
The weekend-long event shares (mostly) the same course, and occurs simultaneously.
An Ultra Marathon (normally called an Ultra, by competitors) is defined as "a long-distance running race that is longer than a marathon".
The Lakeland 100 is a 105-mile circular trail race through the Lake District (what's 5 miles between friends) with a 6300m of ascent. Competitors have 40 hours to complete the circuit and set off at 6 pm on Friday night.
The Lakeland 50 starts just after the halfway point of the Lakeland 100. Competitors start at 11 am on Saturday and have 24 hours to get back to the finish line at Coniston. The 50 takes in 3100m of ascent.
The Charitable Cause
Money raised from event entry fees goes to Epic Kidz which makes donations to community-based causes throughout the year.
Competitors also use their entry to raise money for charities and causes close to their hearts.
How the Day Unfolded
I've taken part in the Lakeland 50 in 2017 and 2018 (completing in 22 hours and 19 hours, respectively), and volunteered to Marshall the event in 2019. This year I was back in Coniston to Marshall again.
I had signed up to volunteer from Friday night to Sunday morning. Using my volunteering day from Circle Interactive I was able to travel up to Coniston on Thursday and help with the event set up (mostly spent putting together some of the 2000+ event entry packs contestants pick up at registration).
Friday
On Friday afternoon with seven or eight other volunteers, we drove to Seathwaite Parish Rooms in the Duddon Valley, to put together Checkpoint One on the 100 course.
Filling buckets with water, and bins with Cola and laying out plates of cake, biscuits, and fruit. Ready for 650 runners to charge through.
Saturday - Sunday
Seathwaite is just over 6 miles (and 600m of climbing) into the course. After the 6 pm start, the frontrunners came through at 7.15 and the last of the pack was gone by 8.30.
After tidying everything we drove back to Race HQ for 11 pm.
Saturday afternoon and Sunday night were spent in Coniston Village marshalling the last road turn to the finish line.
Runners were passing through all night in packs or alone, some looked fresh and ready to do another lap; other people, not so much.
I was marshalling at 1.10 pm when the race winner came through the village, knocking 30 minutes of the course record to complete in 19hrs 10 minutes. Then I finished my shift at 5 am on Sunday with hundreds of people still to run through.
It was a long, long weekend. Even though I hadn't run I was falling asleep on my feet at 5 am on Sunday.
Why did I do it, and why do I keep going back?
The Lakeland Weekend is more than a race. It's a community, a family... a tribe. A whole group of people who think that running or walking until you can't run or walk any more passes as a grown-up hobby.
The sense of camaraderie and mutual support throughout the whole weekend was tangible. It is every year, but coming out of over a year of lockdown this was an uplifting and life-affirming event to be even a small part of.
Roll on 2022!